NBJ Architectes vu par Hitoshi Abe
Architecte, Professeur UCLA Architecture et Design Urbain, Los Angeles, USA, AHA, Sendai, Japon
Architect, Professor, UCLA Architecture and Urban Design, Los Angeles, AHA, Sendai, Japon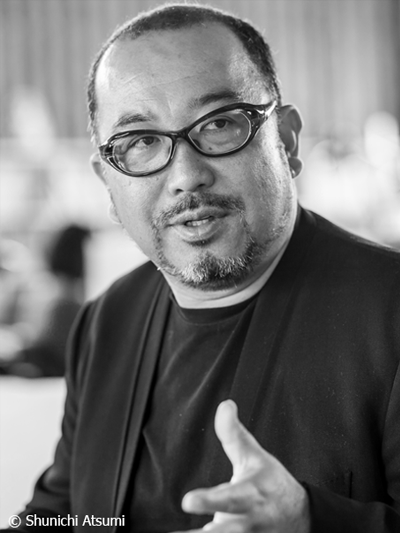 J'ai rencontré Elodie et Jacques pour la première fois grâce au réseau académique international que nous avons établie et organisée ensemble, le World Architecture Workshop. Échange multilatéral, le WAW a réuni des enseignants et praticiens d'Australie, de France, du Japon, mais aussi des Etats-Unis, pour reconsidérer les problèmes locaux et résoudre les problèmes de la communauté par l'architecture et l'urbanisme. Les thèmes des différentes éditions du workshop ont souvent abordé des questions spécifiques aux régions, mais ce qui est finalement devenu clair, c'est la façon dont les résultats de ces éditions pourraient avoir un impact sur un contexte mondial plus vaste. L'agence NBJ Architectes réside dans cette intersection dynamique - entre local et global - afin de « connecter, partager et innover » à travers la pensée du projet. Ces trois thèmes s'inscrivent dans sa pratique de Montpellier et de sa région, au travers de la résolution de problèmes architecturaux et internationaux. Des universités et des académies, aux centres nationaux de recherche et aux bâtiments publics, l'agence NBJ aborde chaque projet avec une délicate sensibilité quant à la place de l'utilisateur. Cet éventail de travaux montre une flexibilité opérationnelle qui reconnaît le contexte non pas comme un objet architectural singulier, mais plutôt comme une stratégie pour un réseau mondial de sites expérimentaux et d'échanges. Au-delà des bâtiments et des infrastructures physiques, l'agence NBJ développe une culture architecturale au travers des Symposiums Métropoles du Sud mais aussi des diverses éditions du Festival des Architectures Vives. Chaque plate-forme respective met l'accent sur des échanges interdisciplinaires pour approfondir les notions architecturales de programme, de technologie, d'environnement et de culture. Grâce à ce partage d'idées, de nouvelles connaissances sont forgées et des projets multi-vaillants émergent.
When I first met Elodie and Jacques, it was through the international academic platform we collaboratively established and ran together, World Architecture Workshop. A multi-lateral exchange, WAW brought together educators and practitioners from Australia, France, Japan and the United States to reconsider local issues and solve community problems through architecture and urban planning. Workshop themes often addressed region-specific queries, however, what ultimately became clear was how the output of these sessions could impact a much larger and global context. NBJ Architects reside in this dynamic intersection—between local and global—in order to "connect, share, and innovate" through design thinking.

These three themes are instrumental to the Montpellier practice as it seeks to resolve architectural and international issues. From universities and academies, to national research centers and civic buildings, NBJ Architects approach each project with a delicate sensibility to place and user. This collection of work demonstrates an operational flexibility that acknowledges context not as a singular architectural object, but rather as a strategy for a global network of experimental sites and conversations.

Expanding beyond physical buildings and infrastructures, NBJ Architects cultivate an architectural culture through discourse at the Métropoles du Sud Symposium and the innovative Festival des Architectures Vives (France). Each respective platform places an emphasis on cross-disciplinary conversations to further tease architectural notions of program, technology, climate, and culture. Through this sharing of ideas, new knowledges are forged and multi-valiant projects emerge.